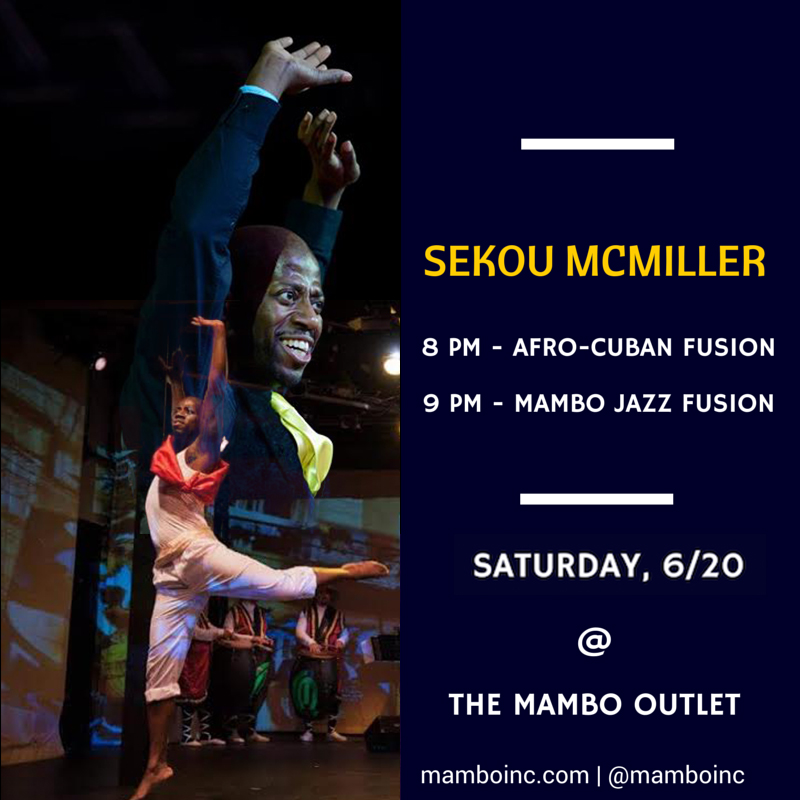 June 20th, 2015 is just around the corner and we are so excited to have Sekou McMiller as our guest instructor this month at The Mambo Outlet.
Join us at 8PM for his Afro-Cuban Fusion Class and at 9PM for his Mambo Jazz Fusion workshop.
Don't miss this unique opportunity to learn from one of the best.
If you've never seen Sekou dance, check out these video clips to get a better idea of his unique and cutting-edge style.
Sekou McMiller is based out of New York, where he is current faculty member at the Alvin Ailey Extension, Joffrey Ballet School and Peridance Capezio Center NYC. He also instructs at Broadway Dance Center.
Scroll down to find out more about Sekou's impressive resume.
 Sekou McMiller in Action
About Sekou McMiller
At the forefront of a new movement in the Latin dance world, Sekou made his NYC Off-Broadway debut and International Tour with Celia the Musical. Sekou has performed and choreographed for Top latin artist such as Gilberto Santa Rosa, Willie Colon, Cheo Feliciano, Johnny Pacheco, Tito Rojas, Tito Nieves, PitBull and the pop icon MADONNA. In addition Sekou has worked with the Radio City Rockettes and has over 15 years of instructing and performing all over North and South America, Europe and Asia. Also he has conducted Master Classes in New York, Chicago, LA, Seoul, Tokyo, San Diego, Seattle, Beijing, Singapore, Mumbai, Miami, Shanghai, Toronto, Vancouver, Montreal, Dallas, Houston, San Antonio, Boston, Manchester, Warsaw, Mexico City, Puerto Rico, Rome, Paris, Brussels and many other international hubs of dance.