If you knew what I know about the power of giving, you would not let a single meal pass without sharing it in some way. — Buddha
At Mambo Inc. we believe in the power of togetherness and community – after all, our monthly dance socials are centered around an intertwined community of individuals who share a passion.
Every month, we come together to enjoy music, dancing, and ultimately each other. We've all built solid relationships that continually enrich our lives or at least provide us with some level of entertainment.
This Saturday, we wanted to extend the power of our mambo community to others outside of the dance scene by teaming up with Westside Food Bank to collect canned food for those in need.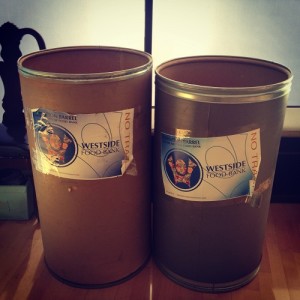 Help us make this a successful food drive for our local community: bring in at least 2 canned items from the list below and get into the social for $5 only.
We know that carrying around packaged or canned food is not ideal when you're lacing up your dancing shoes, but it's a small action you can take that will help out somebody in need.
Plus, you only have to carry it from your car to the door. See, we'll have these nifty bins where you can drop off your contribution.
Items Needed
The following are the types of food we like to receive:  (no glass please, except for baby food.)
Please make sure that all food donated has not been opened if it is not individually wrapped, and that the inner packaging is still intact. Please, no expired food.
Cans of:
Tuna, Vegetables, and Soup
Fruits and Fruit Juices
Pork & Beans
Stews & Other Meats
Packaged Foods:
Pasta, Lentils, Pinto and other beans.
Macaroni & Cheese & Packaged Dinners
Instant Soups
Hot and Cold Cereals
Peanut Butter & other Nut Butters
Nutritional Bars: protein, granola, energy or breakfast bars
The food collected through this drive will go towards helping the most vulnerable members of the West L.A. community. To find out more about Westside Food Bank, their mission, and the social agencies they serve, please visit here.
You don't have to contribute anything – everyone is welcomed to come in the same manner as always. We do, however, hope that you at least think about it before coming out.
We look forward to a great night of dancing and hopefully a great night of giving!