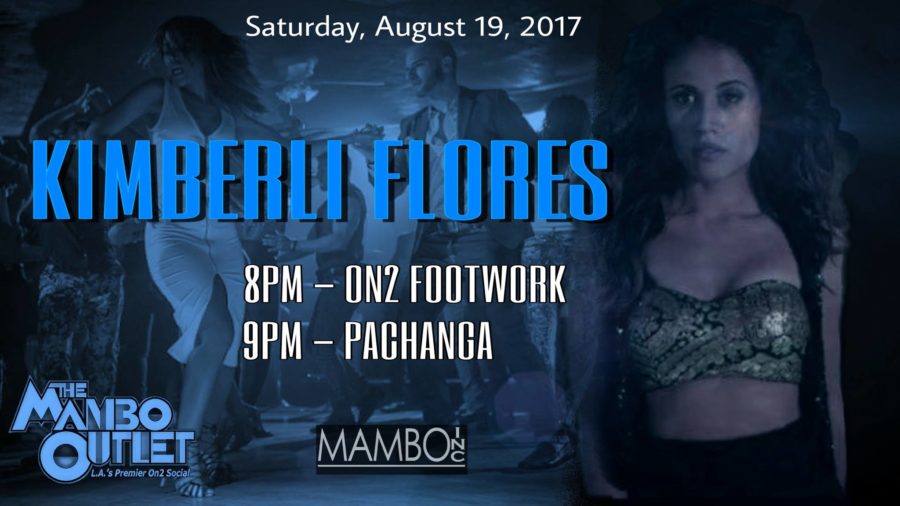 August Special Guest:
This month we're super excited to have a world-class Salsa/Mambo dancer. All the way from New York City, the one and only Kimberli Flores, distinguished performer, dancer and instructors who will be teaching our 8 & 9 p.m. classes before The Mambo Outlet Social gets going.
When:
Saturday, August 19, 2017
Time:
7-8:00 pm: Beginner On2 Fundamentals with Vernnie (Mambo Inc)
Come and learn what dancing On2 is all about with a friendly long-hour introduction. If you've never taken a dance class, or if you are looking to transition to the On2 style, this is the class for you!
8-9 pm: On2 Footwork with Kimberli Flores

This fun and exciting class will expand your social moves library, musicality and body movement. 
9-10 pm: PACHANGA with Kimberli Flores
Who needs to think when your feet just go? An exciting hour-long session of Pachanga rhythm footwork and shines.
Where:
The Mambo Outlet
By Your Side Dance Studio
12613 W Washington Blvd.
Los Angeles, CA 90066
Presale Price (register below):
$12 for 7 PM class or $15 at the door.
$17 for either 8 or 9 PM class or $20 at the door.
$26 for 7 PM and either 8 or 9 PM class or $35 at the door.
$32 for both 8 & 9 PM classes or $40 at the door.
$42 for all classes or $55 at the door
Note: Each purchase is based on 1 person only. Additional Person(s) requires separate transaction

Kimberli in action…